Each month Barnes and Noble posts a new story to share with young readers. Both of my boys really enjoy this new way to share the books we love, and occasionally find a new favorite.
This months book is: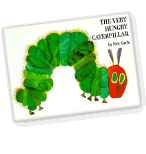 Read by Eric Carle himself! What a fun way to explore a favorite book!
After you share the online story time, check out some of these fun activities to go along....
Homeschool Share
has some really great ideas including this cute song that goes to the tune of The Adam's Family
Days of the Week
to the tune of the Adams Family theme song Days of the week (snap, snap)
Days of the week (snap, snap)
Days of the week, days of the week, days of the week (snap, snap)
There's Sunday and there's Monday
There's Tuesday and there's Wednesday
There's Thursday and there's Friday
And then there's Saturday
Days of the week (snap, snap)
Days of the week (snap, snap)
Days of the week, days of the week, days of the week (snap, snap)
Butterfly word search from
Enchanted Learning
(Enchanted Learning requires a membership which is $20/year and has been worth every penny for me)
Carisa from
1+1+1=1
has an adorable tot pack that includes these great color matching cards